Have you sponsored this project? If so, log in to comment on updates!
6 years, 1 month ago
Please find more details about the impending premiere at The Montpelier pub in Peckham on May the 19th on the attached poster: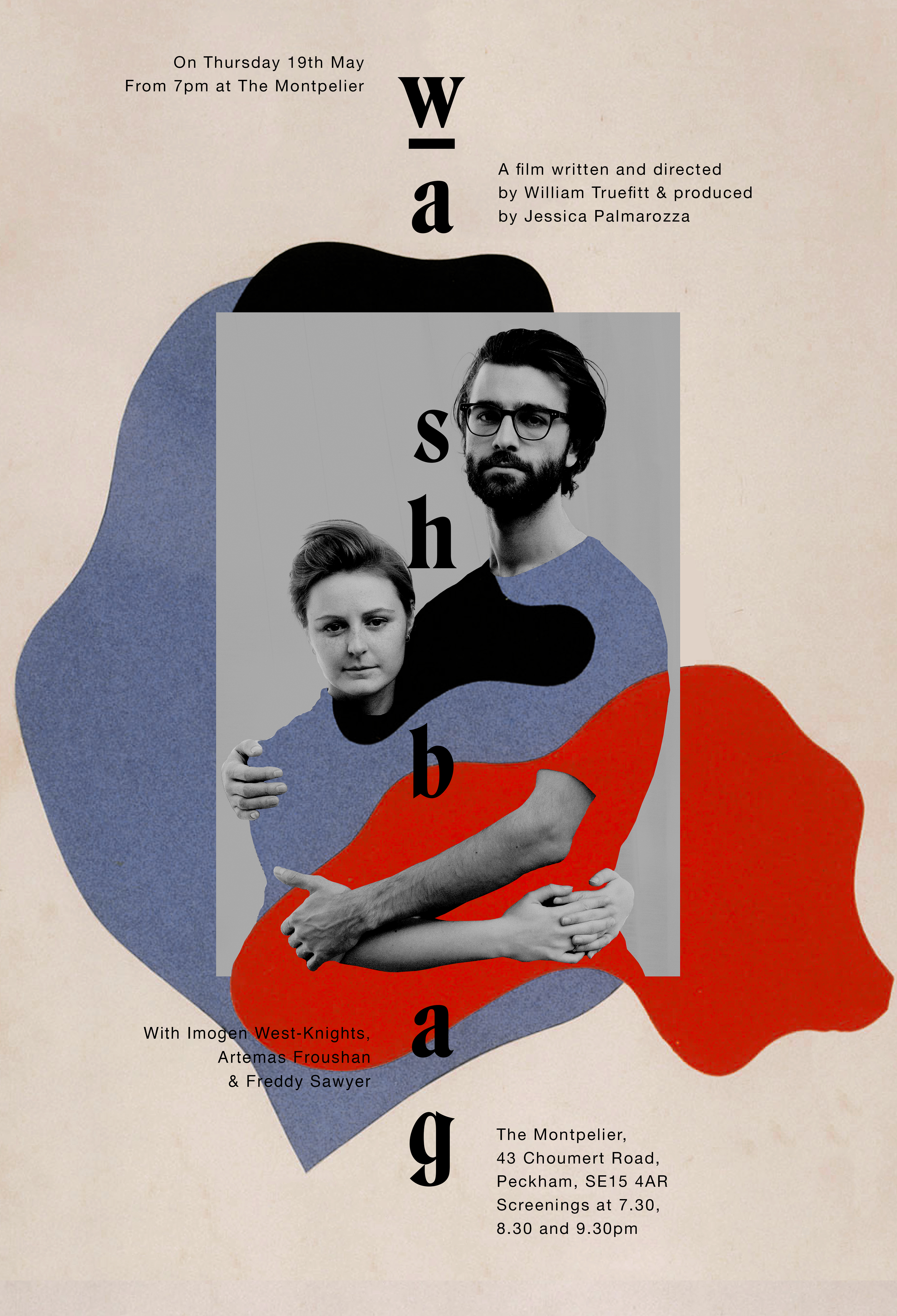 6 years, 1 month ago
WASHBAG PREMIERE ANNOUNCEMENT - MAY 19th, PECKHAM
After months of patience from our supporters, the team behind WASHBAG are finally ready to show their short film to the world. We are incredibly grateful for everyone who has helped us get to this point, so thank you, and fingers crossed you liked it!
Considering how much of the film was shot in and around Peckham, we couldn't think of a better place to celebrate the premiere than the upstairs cinema of the brilliant MONTPELIER pub just off Rye Lane. (Please see poster below for address details etc)
There will be THREE showings on the night: 7:30pm, 8:30pm, and 9:30pm - the venue is modestly sized, so please arrive early to avoid disappointment.
(Special Reserved Seating for Hubbub Supporters)
****
WASHBAG is a short film following three twenty-something
s undergoing their post-uni emotional hangover. A film about the things we don't say.

A Kangaroo Film
Produced by Jessica Palmarozza
Written and Directed by Will Truefitt

Starring:
Imogen West-Knights
Freddy Sawyer
Artemas Froushan

****

For more info, please see 


http://www.themontpelier.net/news.html
https://www.facebook.com/WashbagFilm/
https://twitter.com/Kangaroo_Films



Poster Design Credit Daniella Shreir 2016
6 years, 4 months ago
We're deep into post on WASHBAG. Between everyone's full-time jobs and various other bits and pieces, things have been a bit all over the place, which we know is no excuse, but for now please accept our apologies for not keeping you abreast of developments.
Things are moving quickly and with any luck we will be ready to get the film to the sound mixers, as well as colour graded, in order to show as good looking a film as possible to all of you wonderful supporters.
More news coming soon on things like the poster and other items related to our wonderful cash donors, but for now, please enjoy this image of our heroine, LOLA (Imogen West-Knights) frowning -- mainly because Will hasn't got the film finished yet!
6 years, 5 months ago
HI GUYS!
Sorry it's been a while, but the wonderful cast and crew of WASHBAG have been very busy putting together a short film that I hope will do all of you brilliant supporters justice.
Our first shooting weekend has come and gone, in which we covered around 2/3 of our scripted material, in various locations and states of caffeination. Next weekend marks our final two days of shooting, and though there is a lot we need to get through, the outstanding cast and crew who are working so hard to make WASHBAG a reality will, I'm sure, pull it off.
Shortly there will be a more updates for you lovely supporters, including a preview of the hallowed POSTER, but in the meantime, on behalf of everyone involved in making WASHBAG a reality, I'd like to once more thank all of you so much for liking, sharing and donating to help our project. Couldn't do it without you!
--Will
x
6 years, 6 months ago
We're almost at our minimum target!
Hi Guys,
At the weekend, while we rehearsed and the wonderful Daniella Shreir took some photos for the all-important POSTER, there was a surge in interest, meaning that we have shot to around £770 in pledges!
This is wonderful news, and we would like to take this opportunity to thank everyone kind enough to contribute to our project. Without you, making WASHBAG wouldn't be possible, so thanks once more.
Those of you who haven't yet or can't donate, don't worry, there are plenty of ways you can help-- even if you just share this page with all of your friends, and get the name WASHBAG out there. We're so so close to our minimum fundraising target, with just a week to go, so let's do this!
6 years, 6 months ago
WE HAVE OUR CAST! MEET THEM BELOW:
'LOLA' 
Imogen West-Knights is an actor, writer and freelance journalist. Past credits include: The Wishing Horse (ABG Productions) Catkins (Nightingale Productions) The Importance of Being Earnest (Corpus Christi Auditorium), Rope (The Oxford Union) and, in her capacity as co-president of the Oxford Revue, numerous sketch comedy shows up and down the country and at the Edinburgh Fringe Festival 2010-2014.
'MAX' 
Freddy Sawyer's previous theatre credits include: Arden Creatures (Cockpit Theatre); Paradise Project (The Rag Factory); Mercury Fur (Corpus Playroom); Dido Queen of Carthage (Senate House, University of Cambridge); Glengarry Glen Ross (ADC Theatre); When the Rain Stops Falling (Rosemary Branch Theatre); Blackbird (Homerton College Small Studio); Kafka's Dick (Corpus Playroom); The Pillowman (Cripps Lecture Theatre); The Apocalypse Bear Trilogy (Corpus Playroom).
'DANNY' 
Artemas Froushan is currently in training at the London Academy of Music and Dramatic Art (LAMDA). Prior to drama school, Artemas studied French and German at Oxford University, where his acting credits include POSH (Oxford Union), Closer, Bloody Poetry, The Winterling (O'Reilly Theatre), Angels in America and West Side Story (Oxford Playhouse). He also performed with the OUDS National Tour in 2011 (Machinal), and the OUDS Thelma Holt Japan Tour in 2013 (Comedy of Errors) and 2015 (Romeo and Juliet).
6 years, 6 months ago
CAST/CREW MEAL
Last night the core crew and our LOVELY cast (more on them later today!) got together for a bit of getting-to-know you before we start intensive rehearsals.  A lot of fun was had by all, I'm professionally mandated to say.

spsr.me/1NnkYAT
WILL
X
6 years, 6 months ago
HUGE HUGE THANKYOU!
Hi Guys, Will here!
All of us at Washbag: A Short Film wanted to take this opportunity to thank the wonderful wonderful people who have contributed to our fundraising so far.
SO THANKYOU, Nicky Mann, Irene Truefitt, Billy Clark, Andy Shortland, Peter Endicott, Laurie Middlemiss, Jennifer Cooper, and Lee Hunt! We couldn't be at the £300 mark without you, so thank you so much!
These guys have done amazing work, but we still have a huge way to go before fundraising closes on the 9th November- LESS THAN TWO WEEKS AWAY! So if you want to chip in, no matter how small-- it's all useful-- please visit spsr.me/1NnkYAT to support a load of young independent filmmakers trying to follow their passion!
Thanks for reading, and stay tuned for some exciting CASTING ANNOUNCEMENTS later today!
Will x
6 years, 6 months ago
Many notes were taken at the production meeting between Writer-Director Will Truefitt, Production Designer Madeleine Van Oss and Co-Producer George Kenwright on Thursday. The main gist of proceedings? Off-brand hobnobs and cereal. Lots of exciting ideas were thrown around along with the occasional pair of knickers- now time to get out there and find the bits and bobs that fit!

6 years, 6 months ago
We've passed the £250 mark!
Great news guys, we're now past the £250 mark with just over two weeks left to go! Thank you so so much to those of you who have donated already, and to those who haven't yet, thanks for looking at the page -- there is no donation too small!
We're well on our way to reaching our eventual target, but now it's extra important for us to keep momentum up! So even if you've already donated, please share this page with all your friends so that we have the best chance possible of making this project a reality.
Cheers,
Will