The Oxford Belles need your help to take their sassy a cappella to the Endiburgh Fringe this August!
Who we are and what we are doing
We are The Oxford Belles; Oxford University's Original All-Female A Cappella group. Established in 1995 to combat Oxford's male dominated music scene, the belles are known for their sassy attitude and kickass arrangements of girl power anthems. But now the Belles need your help to push us even harder to reach a new audience and spread our voices.
Check us out... www.oxfordbelles.com
Over the last few years the Belles have grown from strength to strength, performing widely in and around Oxford to great acclaim. This year we want to take our voices even further (literally!) to the Edinburgh Fringe, and we need your help and support. We have worked very hard this year to create a group that can thrive up in Edinburgh, and for the current members the opportunity to perform among some of the UK's leading a cappella groups would be an extremely valuable experience.
As a group we strive to put female driven arts on the map, and we think that the Fringe is a great place to do that. Our show 'Blame it on the Belles' will be 45 minutes of jam packed a cappella magic, with arrangements of everything from empowering hits from the likes of Alicia Keys and Beyoncé to our own sassy takes on the songs of leading male artists such as Justin Bieber.

To accompany our run at the Fringe we want to record a 4-track EP with leading A Cappella production company Liquid 5th. This year we are sounding better than ever, with tight harmonies and some amazing soloists, which is why we want to immortalise our current group on record. Once recorded, we plan on uploading the tracks to online music services such as Spotify, alongside selling hard copies of the EP, which will promote our group to even wider audiences.  Its time to put all-female a cappella on the map!

Meet the Belles
The 10 current Belles are from multiple colleges in Oxford and span many years. Here's a little bit about the committee members who devote their free time to making the Belles the best we can be!
Emily Albery - President/Musical Director

Hi there, I'm Emily, a second year student reading Experimental Psychology at Somerville.  Being in the Belles has meant I can keep singing at University whilst having amazing fun with some of my best friends. The Belles have worked extremely hard this year, keeping up a professional level of commitment. I have pushed them with some very difficult arrangements and a tough rehearsal schedule but they always come out fighting and making a killer sound. Every single one of these girls deserves the chance to showcase their talent to a wonderful audience up at the Edinburgh Fringe, and I can't wait! 
Lea Kambskard-Bennet - Vice-President
Hi! I'm Lea, I'm from London and I'm studying French at Wadham College. What I love most about Belles is singing with a lovely group of girls, performing to so many people and seeing all the hard work pay off every time! I am so excited to be going to Edinburgh Fringe this summer and cannot wait to win over Fringe festival goers with our amazing a cappella show.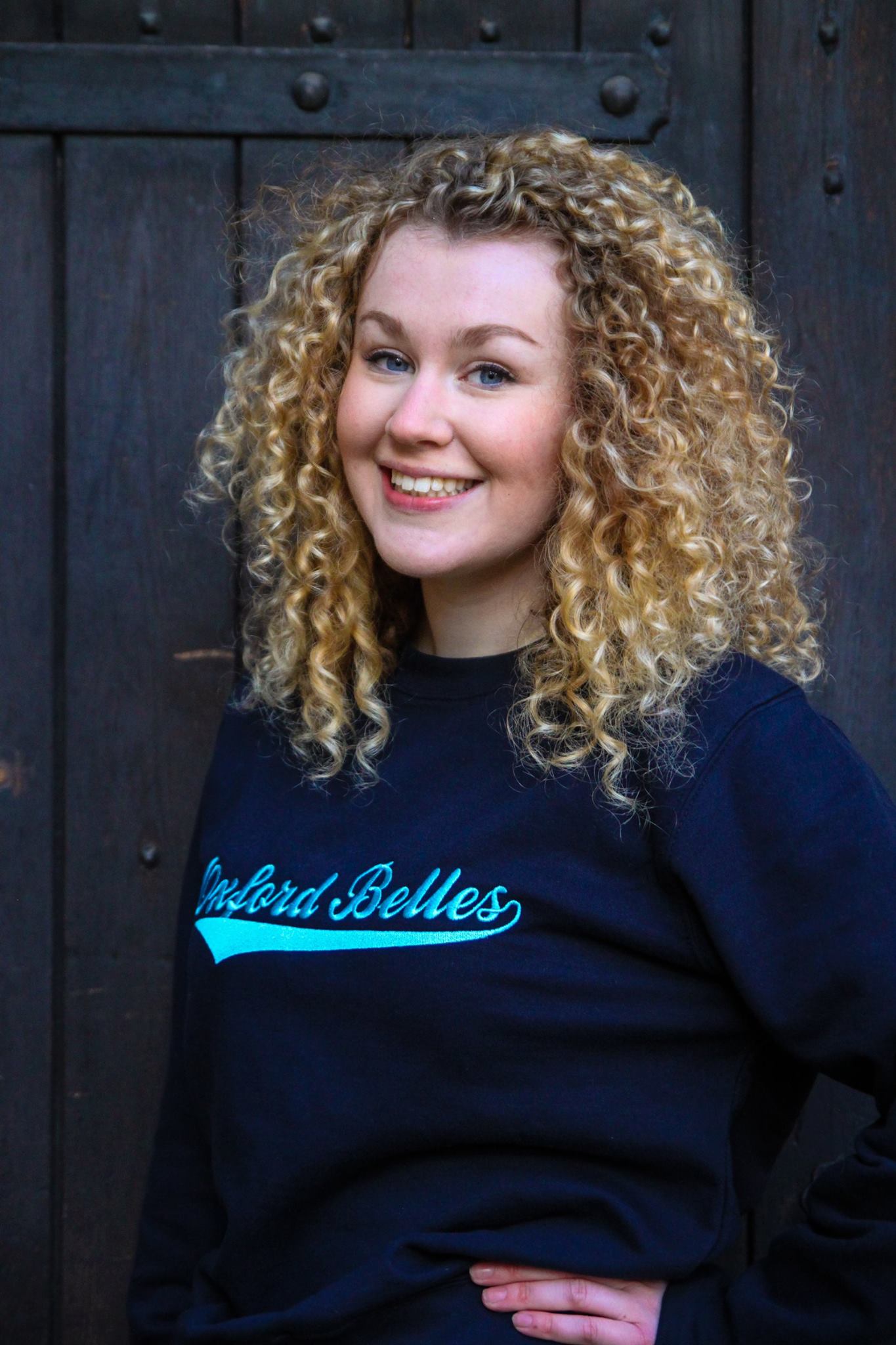 Jess Bollands - Web/Marketing Officer

I'm Jess, a first year studying English at Somerville. For me, the best thing about the Belles (apart from being able to be an unapologetic diva, of course) is how close we are as a group. We all get on so well, and I feel like this is what makes our performances so special; the fun that we have on stage rubs off on the audience! It would be amazing if we could share the Belles love, up in Edinburgh and beyond
Harriet Bourhill - Fringe Officer

I'm Harriet and I'm in my second year studying English at Trinity.
 I live in Edinburgh and so I am extremely excited that the Belles will be heading to the Fringe to perform this summer. My favourite thing about Belles has to be the girls that make up the group: every individual brings their own personality and style which means there is never a dull moment in rehearsal or performance. Please sponsor us so that we can reach our full potential at the festival, and will kickstart many more years of Belles at the Fringe to come.
Sophie Tang - Treasurer
I'm Sophie, and I study Economics and Management at Brasenose College!  I love being in the Belles, because it's given me the opportunity to meet, and sing alongside such an inspiring, hilarious, confident, and talented group of girls. I'm looking forward to Fringe, because we've been working so hard towards learning our new set, and this will be our chance to properly share it with other aca-fans!




Why we need your help
Although the Belles have a vision, we need your help to achieve it. We have worked so hard to reach the high level of musicality we are currently working at, and now is our chance to take that to a wider audience. A Cappella is a widely underfunded form of musical expression, and at university it is one of the few ways like minded people with amazing voices can come together to produce and perform wonderful music. Being an all-female group we are at a massive disadvantage, but we believe that the music we are producing is well worth your support!
All money raised will go towards assisting with covering accommodation and travel costs, as well as venue hire. This is so important to the Belles and so to make it as achievable as possible we are pledging a match of £2,500, half of our minimum target. This means that for every pound you pledge towards our target, we will put a pound of our own in too. This is money from the individual members of the group and money that we have earned from performances throughout the year. However, if we reach our maximum target it will really make our trip an unforgettable experience and will go towards professional recording and mastering of our EP. 
As students ourselves we know how hard to support funds like ours, no matter how much you believe in them, but you don't need to give us money to help us succeed. Please share this project on Facebook, Twitter, LinkedIn, or by another other means you can think of. Tell the cashier in your local Tescos if you want! We need as much exposure as possible to get our project off the ground.
The Belles are a tight-knit group of girls who just love singing and performing together. We are all fed up of watching our male contemporaries reach goals we can only dream of. So please support female empowerment and the arts by supporting the Oxford Belles and make our dreams a reality.
Throughout the campaign we will be continuing to perform at events in Oxford to make more money to go towards the project. You may see us busking on Cornmarket Street, or singing at your college's garden party, all raising money to get us to Edinburgh!
If we reach well beyond our target we will put the money towards funding a tour to the USA next year, as we dream of taking our aural magic state side.
Rewards
We have a wide range of personalised rewards, so whether you can give a little or a lot we have some exciting things to offer. How about pledging £10 and getting a signed copy of our Fringe show flyer, or £75 for a personalised jingle. We will be updating our campaign progress daily to let you know what we've been up to and how we've been raising money in Oxford.
If you have any questions about where your money will go or more specifically about rewards please don't hesitate to contact Emily on oxfordbelles@googlemail.com. 
Where you can find us
Please follow us on Facebook and Twitter to keep updated with how we are doing:
www.facebook.com/oxfordbelles, twitter.com/OxfordBelles
We also have an Instagram account documenting our road-to-fringe we would love you to follow (@oxfordbelles).
Check out of website for more details about the Belles and please contact us if you have any questions about our campaign:
We are always available to perform at events in Oxfordshire and London, so head to our Website to book us for your next party. And please don't forget to share our page on your social media pages to help us reach a wider audience!

 Thank you so much for taking the time to  Support us!
Have you sponsored this project? If so, log in to comment on updates!
4 months, 3 weeks ago
Happy International Women's Day! Just over 6 months after our success in Edinburgh we've been working tirelessly at Belles HQ to put something new together and the release date has finally come! I am so honoured to be able to reveal to you our new music video 'Girls Just Wanna Have Fun(damental) Rights'. The video is our new feminist take on the Cyndi Lauper classic and features top female academics from across Oxford University sharing words of wisdom for women in society today. Through the video we hope to spread the gender equality love and raise money for three great charities: Forward, Oxfordshire Rape Crisis Centre and The Malala Fund. Please watch the video, donate what you can, and share on social media so we can spread the message far and wide. As ever, thanks so much for you ongoing support! Lots of love, The Oxford Belles xxx
1 year, 2 months ago
Thank you so much to everyone who supported us throughout the project. We are all over the moon to be heading up to Edinburgh in August, and can't wait to start recording our EP tomorrow. We are so humbled to have received such an amazing response from everyone and will be in touch about administering rewards soon. Lots of love, the Belles xxx
1 year, 2 months ago
We've reached our target! Thank you so much to everyone who has donated and supported us in every way. We are so unbelievably grateful and cannot wait to prove ourselves worthy of your support up in Edinburgh! We have until midnight tonight to keep raising funds so if you fancy giving us a little more flexibility with our budget every donation is still appreciated as if it were the first. Belles love xxxx
1 year, 2 months ago
Thank you SO MUCH to all who have donated so far! We are so very grateful and feel humbled by all the amazing support we have received. We really cannot wait to get started on the EP next week, and we are already working on perfecting the songs for our Fringe show. With only a week left we need your help more than ever to spread the word about our project and get our message out to a wider audience, so please share our page with everyone you know. Its time to put female a cappella on the map! <3 xoxo p.s. here's a picture of us performing at the infamous Oxford Union, supporting women in debating... such a great crowd! 
The Oxford Belles matchfunded £2500
23 anonymous donations totalling £482.00